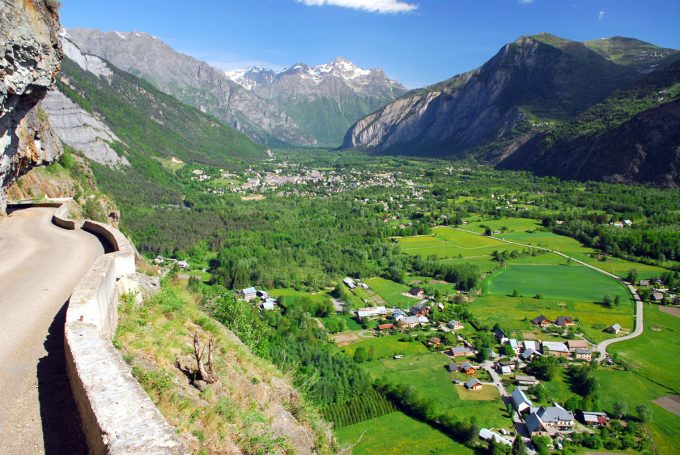 Villard Notre Dame and Villard Reymond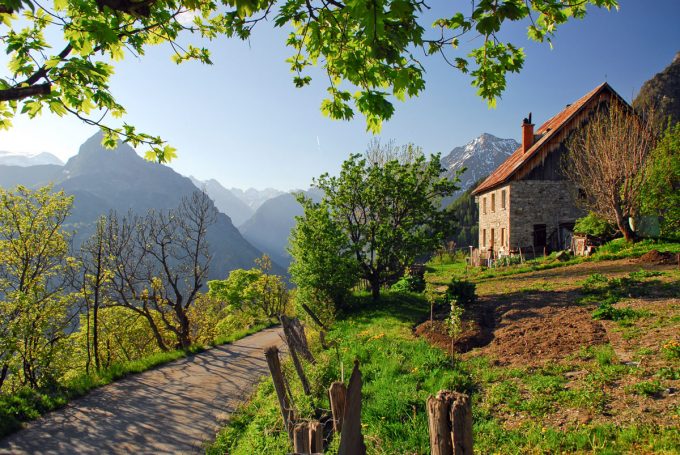 Villard Notre Dame and Villard Reymond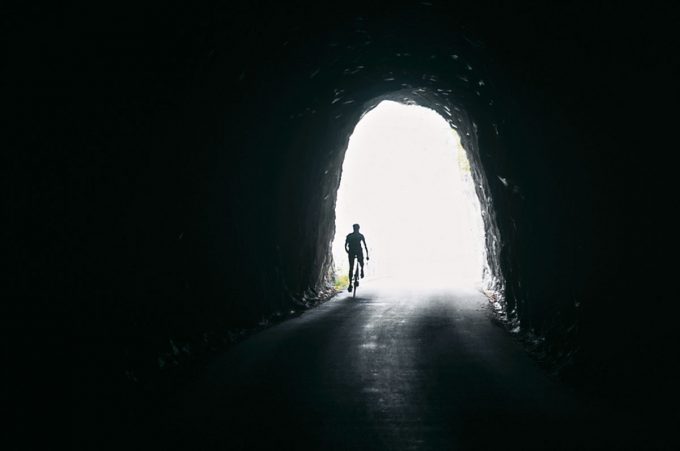 Villard Notre Dame and Villard Reymond
This ascent carved out of the cliff face is very spectacular. The road very soon rises above the Bourg d'Oisans plain. The views over the Grandes Rousses massif and Romanche and the Vénéon Valleys are stunning.
About : Villard Notre Dame and Villard Reymond
Itinerary no. 8 of the "Cycling in Oisans" guide (Oisans Tourisme)

Departure / Arrival (loop): Bourg d'Oisans 720 m
Time: 3 h
Distance: 31 km
Highest point: 1686 m
Lowest point: 710 m
Total ascent: 1159 m
Max. gradient: 10%

Map: Michelin Local Map no. 333 Isère, Savoie

ITINERARY
In the centre of Bourg d'Oisans, take the D219 towards Villard Notre Dame. The road very soon rises above the valley. Make sure to warm up properly in the plains before you start the climb.
The first part of the road, which is cut straight through the rock, is particularly strenuous, mainly because of the three unlit tunnels which are sometimes plunged into pitch darkness. So, do not go on this tour without making sure that you have proper lighting! Although there is not much traffic, this narrow road and the closeness of the precipice make encounters with vehicles rather dangerous.
Then, from the second part of the tour, you will be able to pick up speed along the route which winds through the forest up to the village.
As soon as you arrive in Villard Notre Dame, THE village square appears without warning. From there, you can push the door of the church: its interior is well worth a quick visit. If this charming climb whetted your appetite, then look out for the "Bar / Casse-croute". Otherwise, cross the village and continue to climb up to a forest track leading to Villard Reymond. The surface is unpaved, but you can generally cycle along it without any problems. You can always dismount, if necessary.
At the end of this track, you arrive at the Col du Solude (1686 m), the highest point of your route.
A tarred road circles around Villard Reymond taking you to the entry of the village. Turn right to cycle down directly to Bourg d'Oisans on the D210. Before beginning the descent, you could also climb back up to the village to enjoy a little a refreshing break on the sunny terrace of "Gîte de l'eau Blanche".

HOT WEATHER TIP
This ride can be enjoyed in either direction starting from Bourg d'Oisans.
If you're looking to avoid the heat of summer, it's worth remembering that the road between Bourg d'Oisans and Villard Notre Dame is in the shade in the afternoon whereas the descent down from Villard Reymond on the sunny side.
En bref
3 h 00
J+ : 1159 m
31 km
Level black - very hard
Map and GPX marking
Villard Notre Dame and Villard Reymond
Le Bourg-d'Oisans
Getting There
This service provider also offers