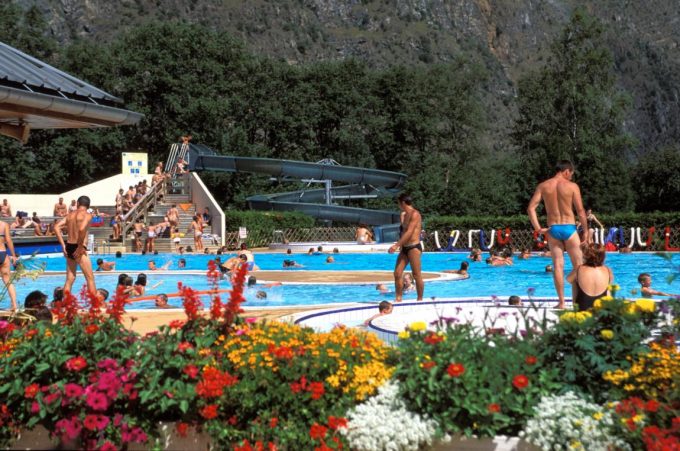 The open-air swimming pool is located at 200m of the town center, and is situated in a green environment where you can enjoy from a splendid panoramic sight on the mountains. You will find there a 25m pool, a paddling pool, a slide and snack bar.
About : Swimming-pool
Scenic view near tennis court.
A 25 meter Swimming pool. swimming pool for kids - toboggan - snack bar - swimming lessons -
Covid-19 special services
According to French government measures, a health certificate (based on vaccine status, previous infections or negative tests) will be required

Wearing a mask is compulsory up to showers. Shower is compulsory.

Swimming shorts are strictly prohibited.

The number of cabins is limited and lockers are not available.

150 people maximum simultaneously.
The sanitary instructions will be displayed at the entrance of the swimming pool and must be followed scrupulously.
Facilities
Picnic area
Bar
Toilets
Parking
Services
Tours
Language of the tour: English, French
Opening
From 12/06 to 02/07, every Wednesday, Saturday and Sunday between 10 am and 6 pm.

From 03/07 to 15/08, daily between 10 am and 7 pm.

From 16/08 to 31/08/2021, daily between 10 am and 6 pm.
Prices
disabled people
Adult: 6 € (Single entry)
Child: 6 € (Single entry)
Season pass for adult: 15 € (Week pass for tourists staying in Bourg d'Oisans - Adult)
Season pass for child: 10 € (Week pass for tourists staying in Bourg d'Oisans - Children)
Residents subscription: 10 to 20 € (Season pass (Bourg d'Oisans dwellers) : children (under 18) and adults (proof of residency + identity card)).

Free entry for children < 5 years, people > 70, disabled people.

Entrance with reloadable card (skipass) - 2€ deposit
Professional and workers committee (minimum of 150 cards) 50€.