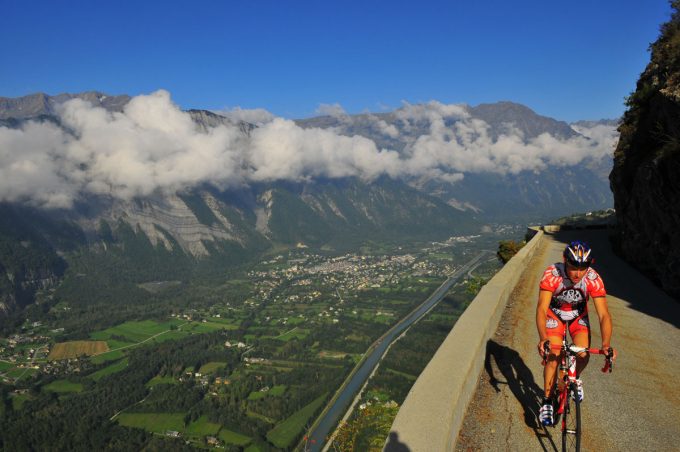 Alpe d'Huez, the Col de Sarenne and the Auris balconies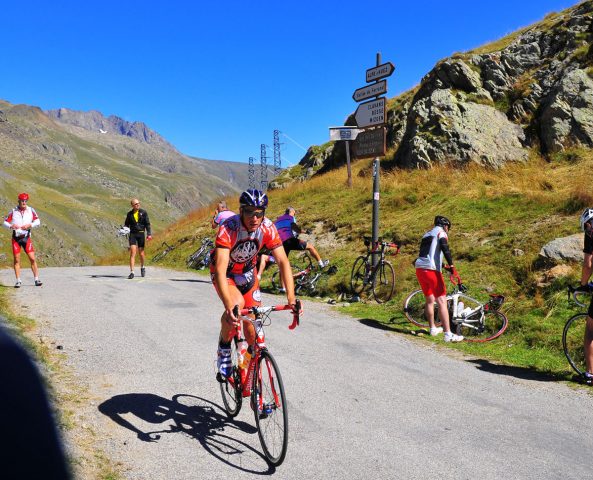 Alpe d'Huez, the Col de Sarenne and the Auris balconies
This route starts with the 21 hairpin bends of Alpe d'Huez. Then, a plunge into the Ferrand Valley via the "Col de Sarenne". The ride becomes wilder. Continue along the Auris balconies offering you a fabulous view over the Romanche Valley.
About : Alpe d'Huez, the Col de Sarenne and the Auris balconies
ITINERARY
From Bourg d'Oisans, follow the road towards Alpe d'Huez. Enjoy pedalling on the flat for a short kilometre before tackling the famous climb.
From La Garde en Oisans (bend no. 16), the road is clearly signposted as "Isère à vélo no.1".
On your arrival at Alpe d'Huez, follow signs to "Office de Tourisme" (tourist office), then to "Quartier Bergers". Ride past the altiport and continue on the "route du col de Sarenne".
Cross the pass and cycle down into the Ferrand Valley. Prepare for a race down to the villages of Clavans le Bas and Mizöen. At the end of a fairly steep descent, you will find yourself back on the D1091. Cross the Chambon dam and carry on until you reach Freney d'Oisans.
At Freney, just after the Avia petrol station, turn right onto the D211a and start climbing towards Auris. Follow the road until the hamlets of La Balme.
The "route de la Roche" will guide you back to La Garde en Oisans, taking you along a narrow road dotted with 3 tunnels, carved out of the cliff face. The view over Bourg d'Oisans plain is breath taking.
Once in La Garde, you will get back on D211 road which will take you down to Bourg d'Oisans.

ALTERNATIVE ROUTE
You can also do this ride in the other direction by turning right in La Garde, following signs to Auris en Oisans on the D211a. Doing it this way means that you will only climb one-third of the 21 iconic switchbacks of the Alpe d'Huez (at the end of the ride, you will do them all downhill), but the rides up to the Auris balconies and the Col de Sarenne from Mizoën are just as interesting!

ANECDOTE
The 18th July 2013, the Tour de France set an ambitious challenge for its intrepid cyclists.
A new itinerary took them twice up the Alpe d'Huez climb: 21 + 21 = 42 bends! A first climb, then a downhill section via the Sarenne Pass to go back to Bourg d'Oisans and a second helping of 21 hairpin turns for dessert...
En bref
4 h 00
J+ : 1978 m
57 km
Level red – hard
Map and GPX marking
Alpe d'Huez, the Col de Sarenne and the Auris balconies
Le Bourg-d'Oisans
Getting There
Opening
From 01/05 to 31/10 : open daily.